Steps to Knowing God
Would you like to Know God Personally?
We believe in a real God, who really cares and who has great plans for you. We'd love for you to come and visit us at our sister website Questions God. Com and see what we're all about here.
---
STEPS TO SALVATION
How to know God here.
Some times I think there is a GOD and sometimes I don't. It all seems unreal to me but I want to learn about it. Help me believe and get a better understanding. Because if there is a GOD I want to develop a relationship with Him.


Step 1. God's Purpose: Peace and Life
Step 2. Man's Problem: Separation from God
Step 3. God's Solution: The Cross
Step 4. Man's Response Receive: Christ as Savior
Step 5. Will you Receive Jesus Christ as your Savior?
Step 6. As a Christian: What should I do Next?
More on God's Salvation here

Step 1: God's Purpose: Peace and Life

God loves you and desires that you experience Joy, Peace, and the Abundant life. This life is in God's only begotten Son, Jesus Christ Our Lord!
The Bible Says....
"For God so loved the world that He gave His only begotten Son, that whoever believes in Him should not perish but have everlasting life." —John 3:16 (NIV)

"We have peace with God through our Lord Jesus Christ." —Romans 5:1 (NIV)

"I have come that they may have life, and that they may have it more abundantly." —John 10:10 (NIV)

What keeps most people from experiencing the Joy, Peace, and the Abundant Life that God has planned for them?


Step 2: Man's Problem: Separation from God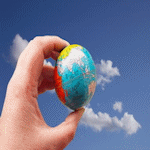 God created us in His own image to have an abundant life. He did not make us as robots to automatically love and obey Him. God gave us a will and a freedom of choice.
We chose to disobey God and go our own willful way. We still make this choice today. This results in separation from God

The Bible says ..."For all have sinned and fall short of the glory of God." —Romans 3:23 (NIV)
"For the wages of sin is death, but the gift of God is eternal life in Christ Jesus our Lord." —Romans 6:23 (NIV)

Our Attempts to Reach God
People have tried in many ways to bridge this gap between themselves and God ...

The Bible says ..."There is a way that seems right to a man, but in the end it leads to death." —Proverbs 14:12 (NIV)
"But your iniquities have separated you from your God; your sins have hidden his face from you, so that he will not hear." —Isaiah 59:2 (NIV)
No bridge reaches God ... except one. There is Only one Solution to this Problem of Separation.


Step 3: God's Solution: The Cross

Jesus Christ died on the Cross and rose from the grave. He paid the penalty for our sin and bridged the gap between God and people.
The Bible says ... "For there is one God and one mediator between God and men, the man Jesus Christ."
—1 Timothy 2:5 (NIV)
"For Christ died for sins once for all, the righteous for the unrighteous, to bring you to God." —1 Peter 3:18 (NIV)
"But God demonstrates his own love for us in this: While we were still sinners, Christ died for us." —Romans 5:8 (NIV)
God has provided the only way. Each person must make a choice.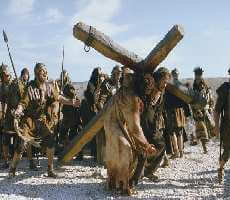 Step 4: Man's Response: Receive Christ as Personal Savior

"Jesus came that you may have life and have it more abundantly" (John 10:10). If this is not true in your life now, it can be.
We must trust Jesus Christ as Lord and Savior and receive Him by personal invitation.
The Bible says ..."Here I am! I stand at the door and knock. If anyone hears my voice and opens the door, I will come in and eat with him, and he with me."
—Revelation 3:20 (NIV)



"Yet to all who received him, to those who believed in his name, he gave the right to become children of God." —John 1:12 (NIV)
"That if you confess with your mouth, 'Jesus is Lord,' and believe in your heart that God raised Him from the dead, you will be saved." —Romans 10:9 (NIV)

What is Next?
5. Will you receive Jesus Christ right now?
Here is how you can receive Christ:
1. Admit your need (I am a sinner).
2. Be willing to turn from your sins (repent).
3. Believe that Jesus Christ died for you on the Cross and rose from the grave.
4. Through prayer, invite Jesus Christ to come in and control your life through the Holy Spirit.
Receive Him as Lord and Savior.

J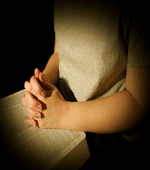 ust Pray This Simple Prayer
"Lord Jesus, I believe you are the Son of God. Thank you for dying on the cross for my sins. Please forgive my sins and give me the gift of eternal life. I ask you in to my life and heart to be my Lord and Savior. I want to serve you always."

Did you pray this prayer?

Now what do I do?
If you prayed this prayer and meant it with all you heart, YOU ARE SAVED! You have now been born again, spiritually, and are a child of God. Your sins have been forgiven, and today begins the first day of many in your new walk with God.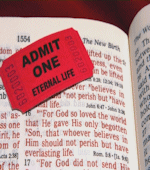 We Are Glad You Decided To Give Your Life To Jesus Christ.

6. As a Christian what should I do next?
If you have received Jesus Christ as your Savior, as a Christian you should:
1. Read your Bible every day to get to know Christ better.
"Study to shew thyself approved unto God, a workman that needeth not to be ashamed, rightly dividing the word of truth." 2 Timothy 2:15
"Thy word is a lamp unto my feet, and a light unto my path." Psalms 119:105
2. Talk to God in prayer every day.
"And all things, whatsoever ye shall ask in prayer, believing, ye shall receive." Matthew 21:22
"Be careful for nothing; but in every thing by prayer and supplication with thanksgiving let your requests be made know unto to God." Philippians 4:6
3. Be baptized, worship, fellowship, and serve with other Christians in a church where Christ is preached and the Bible is the final authority.
Matthew 28:19"Go ye therefore, and teach all nations, baptizing them in the name of the Father, and of the Son, and of the Holy Ghost:"
"Not forsaking the assembling of ourselves together, as the manner of some is; but exhorting one another: and so much the more, as ye see the day approaching." Hebrews 10:25
"All scripture is given by inspiration of God, and is profitable for doctrine, for reproof, for correction, for instruction in righteousness:" 2Timothy 3:16
4. Tell others about Christ.
"And he said unto them, Go ye into all the world, and preach the gospel to every creature." Mark 16:15
"For though I preach the gospel, I have nothing to glory of: for necessity is laid upon me; yea, woe is unto me, if I preach not the gospel! 1Corinthians 9:16
"For I am not ashamed of the gospel of Christ: for it is the power of God unto salvation to every one that believeth; to the Jew first, and also to the Greek." Romans 1:16.
Ask any questions here.
Home All Library Resources Free Downloads
The scriptures are perfect, but men are fallible. I prayerfully check all of the material I put on my sites. However, I am quite capable of missing something or making a mistake. If you find anything at all on these pages that is questionable or find any links broken please contact us here.
Top
Copyright 2008. Bibles Net. Com. All Rights Reserved.